Flow: How To Use "Screen"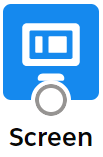 Screen element is absolutely my favorite flow feature! It is the key to make your flows interactive and to solve all types of business problems. Here we will focus on introducing the general layout and some components that are more advanced.
A: General Layout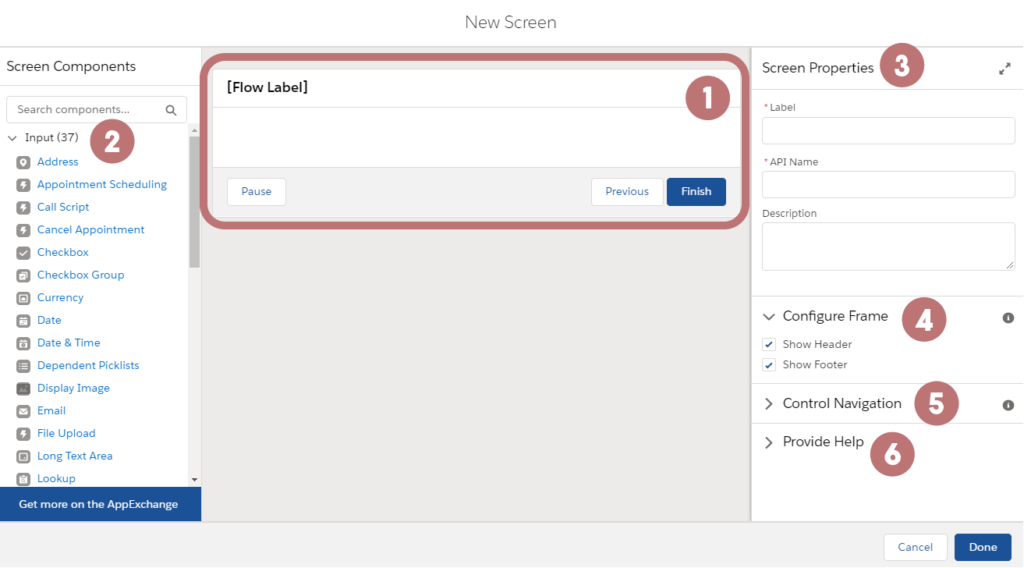 1. Canvas
The main interface your users will see.
2. Components
All the available components you can drag to the canvas to display.
3. Screen Properties
General label and API name of the screen element.
4. Configure Frame
The section to toggle the header and footer on or off. Header is the top row that will show the name of the flow, and footer is where the Pause/Previous/Finish buttons are.
5. Control Navigation
6. Provide Help
7. (Component-specific) Set Component Visibility
8. (Component-specific) Validate Input
8. (Component-specific) Advanced – Manually Assign Variables and Revisited Screen Values
B: Components
1. Section (Beta)
2. Choice component – Radio Buttons/Picklist
3. Dependent Picklists
4. Display Image
5. Display Text
6. Password
7. Address
8. Email
9. Phone/URL
10. File Upload
11. Lookup
Easy! But the first issue comes up – what if I want to change the account owner? Should I use OwnerId as the Field API Name? Well, after my testing, I found out that using OwnerId does not work as it is not showing any users as options. If you want to change the account owner, you can still use support_rep__c to first get all the users, and then update the account owner Id with the result of your lookup. This is why I said it's a confusing component, as you do not need to use the API of the field that you wish to edit, as long as they have the same type. Meaning, since Support_rep__c and OwnerId are all lookup (user) fields, you can use the first in lookup to change the second just fine.
Then it comes to issue number 2! If I want to make a flow to send out emails to any users of my choice, what should I do? Of course you can create a lookup(user) field on the email message object, but more easily, you can still use Support_rep__c field on Account to get the desired user. That said, you do not even need to use the fields on the same object in order to use lookup component. (So strange isn't it…)
Phew! It was a lot to cover, but screen element is really the magic of Salesforce flow! So take some time to dive into the cases that have screen elements included.
Check Out How

Screen

Can Be Used In Real Cases!