Flow: How To Handle Converted Lead's Related Records (Account/Contact/Opportunity)
Can we convert Leads in Flow? Unfortunately, it is still impossible without a custom Apex invocable method (You can check out this solution on Automation Champion if interested). However, it is possible to modify the related records of a converted Lead in Flow. It is very easy as well, so let's take a look at how to achieve this!
Introduce Conversion Fields
There are several system fields on Lead object that we can use in order to edit the related records. They are: IsConverted, ConvertedAccountId, ConvertedContactId, and ConvertedOpportuntiyId (Official Documentation). IsConverted is showing whether the current Lead is a converted Lead. If True, the Converted Account/Contact/Opportunity Id fields will be populated as well. We can then use these fields to query out the related records.
How To Set Up In Flow
You can simply create a Record-Triggered Flow on Lead object when Updated or Created/Updated. The condition should be IsConverted = True. Ideally, you want to run the Flow "only when" the Lead is converted. You should then use the second option on when the run the Flow, even though the chance that you will update the converted Lead record is low.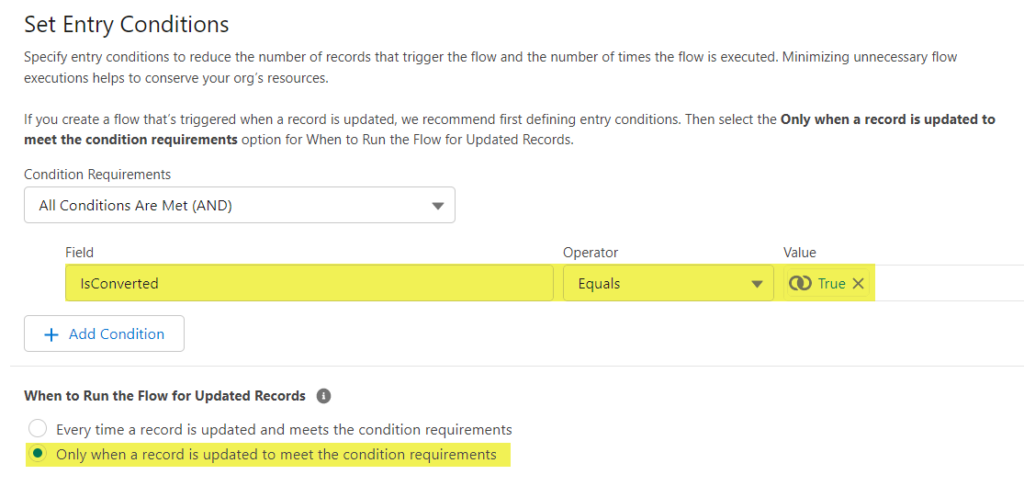 Then simply use a Get Records or Update Records to get the record you want. Please note that if you convert a Lead to an existing Account, the Flow will run again on that existing account and potentially rewrite the data. If you don't wish that to happen, add more constraints using CreatedDateTime for example.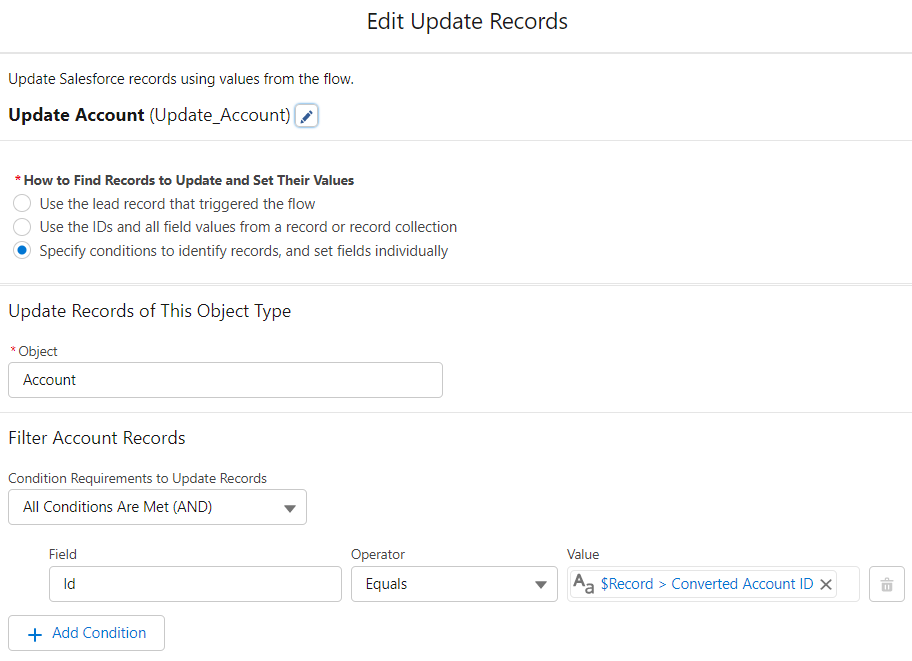 Use Cases
1. Need To Apply Custom Logic
Even though we can map the Lead fields to Account/Contact/Opportunity, it requires we map the fields of the same type with the same value. If we want to add custom logic, we can utilize Flow and these fields. For example, change the Account Rating to Hot if the Lead has high potential or is marked by the sales teams.
2. Need To Add Additional Records
The standard conversion only allows us to create Account, Contact, and Opportunity. If you want to create other records like Opportunity Product, Task, Events, etc, you can do them all together in one Flow instead of building several Flows on different objects. It can also better illustrate your business process – so you have one Flow for Lead conversion-related tasks, instead of one on Account, one on Opportunity, and so on. This makes the management of your automation a lot easier.
Is This Helpful? Check Out Flow Use Cases Or Write Us One!